Recipe Organizer - EZ Address Book Software


EZ Address Book Software
from Elwood Software
Windows 10, 8, 7, Vista, XP
32 and 64 bit




Personal Support
60 Day Money Back Guarantee
FREE UPGRADES






EZ Home and Office Address Book v10.0 $29.95
Recipe Organizer • Enter Your Own Recipes or Cut and Paste
Download the Free Trial and see how EZ an Address Book Program can be!

Save and organize your favorite recipes with your own food categories. Your favorite recipes are easy to display and print with EZ Home and Office. There's even a search function to find your recipes quickly. Enter your own recipes or cut and paste them from a document or the Internet. You can add up to four pictures to a recipe. Print the recipe and have it right where you need it when you're preparing food or email a recipe to a friend. Recipes are indented for punch holes.

To print on a page size other than 8-1/2 x 11, export your recipes to PDF files. Then in Adobe Reader change the page size to print on 5 x 8 cards for example. The PDF files can be shared with other computers and smart devices by using Dropbox.

With 'Select Features' on the Tools Menu you can remove the Recipe Organizer and other functions to simplify the program.

Recipe screen shot and information below.
Recipe Organizer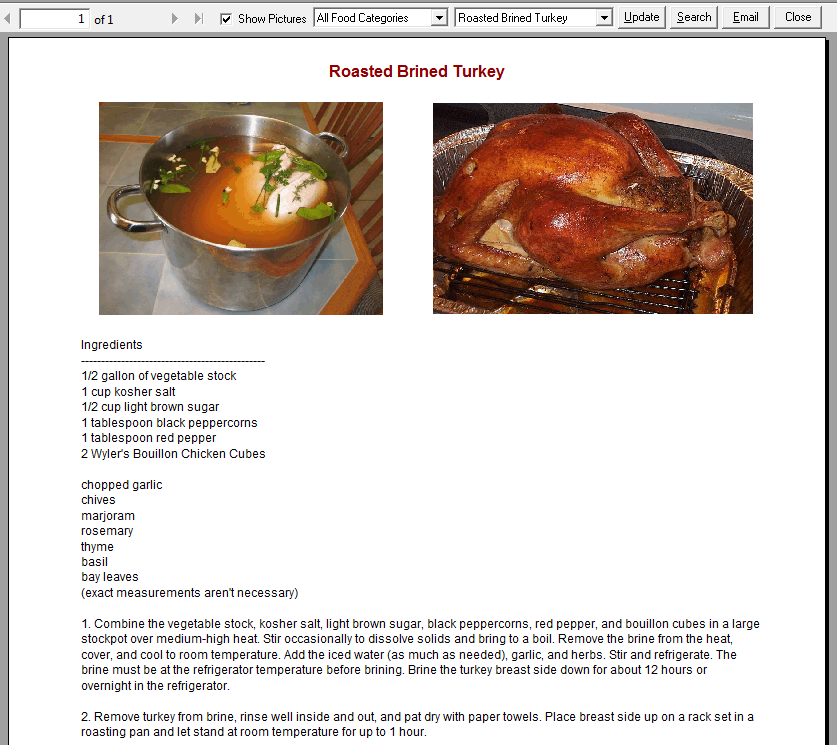 Click on the toolbar or select 'Recipes' from the Features Menu to add and display recipes. Check 'Show Pictures' to display pictures if any were added to the recipe. You can select a food category and recipe from the drop-down lists. Click Update to add, change, and delete food categories and recipes. Click 'Email' to email the recipe. The recipe will be copied to the Windows Clipboard and can be pasted in the email.

Click on the toolbar, use Ctrl+P, or select 'Print' from the File Menu to print the recipe.

You can change the font and font size for the report on the toolbar. Select 'Options' from the Tools Menu to change the report colors, set the default zoom, and select whether you want to display the current date and/or page number at the bottom of the report. All reports use the same options.
ElwoodSoftware.com has a Shopper Approved Rating of 4.9 out of 5 based on 416 Ratings and Reviews
Copyright © 2018 Elwood Software. All Rights Reserved. Your Privacy is Always Protected.
Elwood Software, 21539 Brixham Run Loop, Estero, FL 33928 Support@ElwoodSoftware.com